Are you planning on going to post-secondary or currently attending a post-secondary institution in BC? Are you Deaf, hard of hearing, or DeafBlind? ACE-BC knows that preparing or adjusting to post-secondary life can be a lot to deal with. You will become an equal partner in your education. As an independent learner, you will be responsible for your learning decisions and planning. The accessibility services coordinator at your school can help you with the process, but don't wait! Make an appointment with the Accessibility services at least three or four months before you are to begin your studies, to ensure plenty of time to plan for your educational decisions, funding options, access to adaptive technology and arrange service providers. However, before you meet with your institution's accessibility advisor, you can start your preparations early by registering for ACE-BC's online course, Transition into Post-Secondary Studies (TIPS) at the link at the bottom of this page.
Instructions For Registering a Course
Financial Aid for Post-Secondary
Communication Access Options for Students
Transition Into Post Secondary (TIPS) MOOC course
Hearing Loss and Fatigue
Instructions For Registering a Course
Financial Aid for Post-Secondary
Communication Access Options for Students
Transition Into Post Secondary (TIPS) MOOC course
Instructions For Registering a Course
Financial Aid for Post-Secondary
Communication Access Options for Students
Transition Into Post Secondary (TIPS) MOOC course
QUICK STEPS: 1,2,3
Step 1: GET BCIT ID:  https://bcit.ca/free-online-learning
Now your ready to register for your chosen courses
Step 2: Go back to https://bcit.ca/free-online-learning
You are now ready to access your courses in the BCIT Learning Hub: The name of the transition course is MOOC -0100-NET – Post-Secondary Transition (88235)
Step 3: Go to https://learn.bcit.ca
Login with your ID and PW
Your course will appear under your My Courses listing
FULL INSTRUCTIONS
1.          To get a BCIT ID:
Go to https://bcit.ca/free-online-learning
Explore the details of the course by clicking on the course names.
Find the course you'd like to take.
The name of the transition course is MOOC -0100-NET – Post-Secondary Transition (88235)
In the course details, click Create a BCIT account.
New to BCIT – Create BCIT ID button
Complete all the requested information on 2 screens
If you don't have a PIN, leave this blank
No hyphens in the phone numbers
You will get a confirmation screen with your BCIT ID – A# and your initial PW which will be your birthdate as YYMMDD.
2.       Now your ready to register for your chosen courses
Go back to https://bcit.ca/free-online-learning
Find the details of your course
Click Register Online
You'll be taken to the registration site for that course.
Confirm by reviewing the details.
When you're ready to register, click the green Add to Cart button towards the bottom of the page.
You can add as many courses as you'd like.
When ready, click the green View Cart button towards the top of the page.
Note your amount owing, if all your course choices are from the Free Online Learning site, then this should read $0.00
Confirm your choices by using the checkbox and, when ready, click the green Proceed to Registration button towards the bottom of the page.
You'll now get a login screen. Use your A# and your PW to loging.
If this is your first time, you will need to change your PW.
Once logging in you will see your myBCIT Main Menu as confirmation.
3.       You are now ready to access your courses in the BCIT Learning Hub:
Go to https://learn.bcit.ca
Login with your ID and PW
Your course will appear under your My Courses listing
Getting your finances in order before you start your post- secondary journey is a daunting yet critical process. We have devised a 5-step guide to help you break down your education costs, living expenses, and communication access requirements during your post-secondary studies and determine your eligibility for student loans and scholarships.
Step 1: Examine your Current Assets – Be sure to investigate the following potential sources of assets: Savings account, Registered Education Savings Plan (RESP), Income from casual or part-time work, Family contributions. After clearly identifying the total assets that you have, you can determine how much of these total assets will go towards your post-secondary education.
Step 2: Anticipate Educational and Living Expenses – What are some anticipated costs throughout your post-secondary education aside from tuition, books and lab materials/supplies (if applicable), stationary, living costs, including food (if living away from home). For additional hearing access necessities, extra expenses may be incurred:
Hearing Aid Batteries
Hearing aids/cochlear implant processors – Unfortunately these devices are not covered under the Assistive Technology British Columbia grant. The devices range from $1000-3000 each.
Other communication devices – If you are planning to live independently, you may want to consider investing in the following devices: vibrating alarm clocks (for those who are deep sleepers), bed shakers and strobe lights (to alert you when the fire alarm goes off or when someone is knocking/ringing a doorbell).
Step 3: Consider Money-Saving Tips – Some ways that you can look into cutting down the costs as much as possible:
Tuition – Check the breakdown of your tuition payment. In addition to course fees, there are other categories that you can opt out of paying. The most common one is your student medical/dental plan. Most institutions will automatically put you on a plan, but if you are already covered under another plan, there is no need to pay that fee. Speak to the appropriate department; Keep in mind that most institutions have deadlines for opting out.
Books –  On the first day of class, check if the instructor is okay with the use of earlier book editions, which tend to be much cheaper. Also, most institutions have an online website where students put up used books for sale. In the best case scenario you can save at least $150-200 on textbooks.
Living Costs – Living on campus can be more expensive, consider finding a nearby place to rent with several people that you trust. If an alternative can be staying at home, you can use the money saved for meaningful opportunities such as going on an international exchange!
Step 4: Determine if You Qualify for a Student Loan – Now that you have had the opportunity to work out your assets and expenses. It is time to weigh the both of them and see whether you have a surplus (assets > expenses) or a deficit (assets < expenses). You can then look into applying for student loans and grants. To qualify for a student loan, and therefore be eligible for a grant, you must demonstrate a minimum financial need of at least $1 (your expenses outweigh your assets). Grants are key to obtaining assistive technology that you may need for your hearing access in the classroom. While you want to make yourself eligible for a student loan, keep in mind the gap between assets and expenses. The larger the gap, the more student loan you will be given and therefore be responsible for repaying after the completion of your studies.
Let's figure out how to ensure you are eligible for a student loan:
Maximize your expenses – Remember to factor in the additional costs for your hearing access (e.g. hearing aids, communication devices)
Minimize your assets – The application will ask how much financial support you will receive from parents. There is no law saying that parents must give you money for post-secondary education. You can choose to indicate that there will be no financial support from your parents, which will significantly reduce your available assets.
Note: If you are applying for a student loan, it's important to check off "yes" to having a permanent disability on your initial Student Loan application.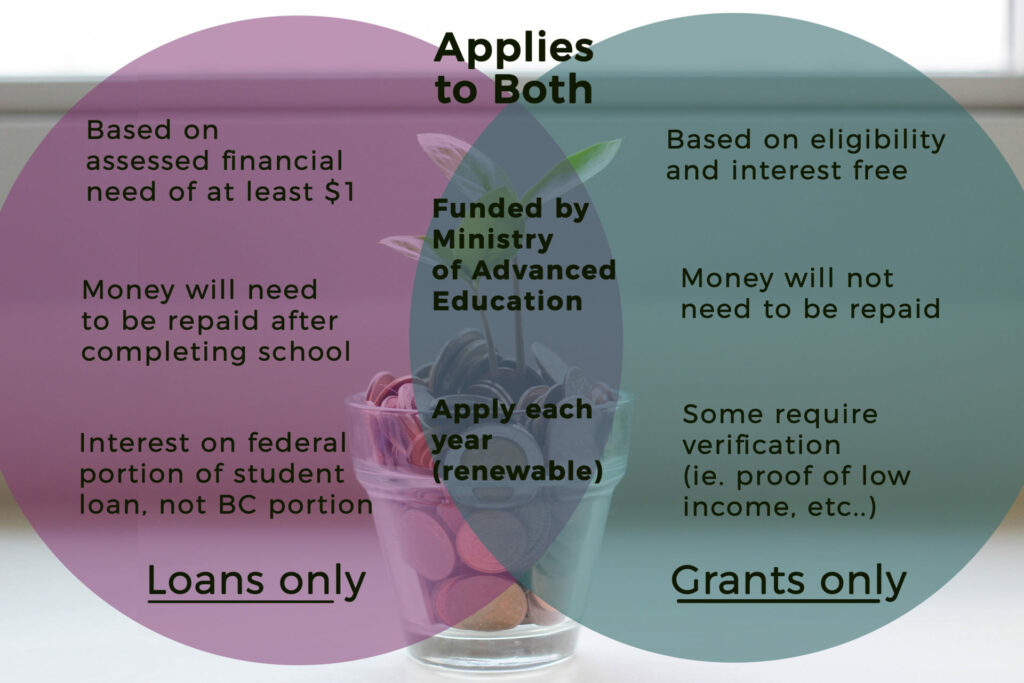 You can apply for a student loan through the Student Aid BC website. Full-time students will need to create an account with Student Aid BC and will be guided through the process of applying for a loan. Part-time students can fill out and mail a loan application package found on the website above.
Step 5: Explore Grants and Scholarships – The grants listed below require the verification of permanent disability document (Appendix 8 Form) – completed by you, your audiologist, and accessibility coordinator, along with a copy of your audiogram.
Once this document is submitted along with the student loan application and your status is approved, you are automatically eligible for all the applicable grants (those checked on the Appendix 8 form). There is no need to apply for each one individually.
Available Grants
All Grants are paid by cheque unless otherwise specified. You can request a direct deposit to your bank account by filling out and mailing this form from the National Student Loans Service Centre(NSLSC).
Canada Student Grant for Students with Permanent Disabilities
Amount: $4,000* per program year (August 1 to July 31).

*Note: The above amount has been temporarily increased for 2020/21 in response to the COVID-19 pandemic.

Canada Student Grant for Services and Equipment for Students with Permanent Disabilities
Amount: Up to $20,000 per program year specifically for services and equipment (e.g., note-takers, tutors, interpreters, technical aids)
Distribution method: Cheque is sent directly to your institution and your Accessibility Advisor will ask for your signature to transfer the amount to the institution so they can pay ATBC for equipment or for captioning/interpreting services. This money is taxable.
BC Access Grant for Students with Permanent Disabilities
Amount: Replaces the student loan amount up to $1,000 per program year (e.g., if you receive $1,000 worth of student loan, the loan is replaced with this grant)
BC Supplemental Bursary for Students with a Permanent Disability
Amount: $400 (part-time) or $800 (full-time) per program year.
You could receive up to $3,800 per program year in grants and bursaries. This definitely makes it worth getting yourself eligible for a student loan.
Additional Grants with Specific Requirements:
BC Access Grant for Deaf Students
Assists deaf and hard of hearing students with additional costs incurred while attending post-secondary institutions where curriculum is delivered in ASL. It is currently $30,000.
Criteria: Must be attending Gallaudet University in Washington, D.C. or the National Technical Institute for the Deaf in Rochester, New York
Assistance Program for Students with Permanent Disabilities
Criteria: Available for students with permanent disabilities attending public and private post-secondary institutions in BC.
Amount: Depending on your need, up to $10,000 ($12,000 if an attendant is required at school)
Note: This grant can only be used once all the funds from the Canada Student Grant for Students with Permanent Disabilities have been used up. You can explore other grants on the StudentAidBC website.
Scholarships and Awards
Lastly there are scholarships and awards that you can pursue to build up your assets for your education.
In-school & community scholarships – check with your school counselor about what is available
Entrance scholarships – check with your institution on what is offered
Deaf community scholarships
Cochlear Graeme Clark Scholarship (cochlear implant users only)
VOICE for Deaf and Hard of Hearing Children Scholarship List
Each scholarship will vary in terms of the amount of money awarded, eligibility criteria, application requirements, and deadline to apply.
Financial Planning
If you would like to know more about managing your finances, which is beyond the scope of this information, please feel free to email the Canadian Hard of Hearing Association BC Youth Peer Support Program as they offer workshops on this topic.
As a Deaf, hard of hearing and DeafBlind student, your communication access needs and preferences can vary, depending on the situation and context. When determining the most effective accommodations for the classroom or online, there are many aspects to consider. It is possible that if you are hard of hearing, using an assistive listening system in the classroom, such as an FM system is great, but this may not be as effective in a virtual classroom. In this  case, a speech-to-text option such as TypeWell or CART will be a more effective option. If you are a Deaf student, a sign language interpreter may be effective for some classes, but TypeWell or CART may be a better choice for other courses.  Because everyone's communication needs are unique, and classroom instruction and environments vary, a one-size-fits-all approach does not work.
Here are some communication access options to consider:
Assistive Listening Devices
Assistive listening devices (ALDs) such as FM systems, infrared and sound-field systems amplify the volume on an instructor's voice. ALD's are prescriptive if they are connected through your hearing aides and a recommendation from an audiologist is required.

Consider: ambient noise in the room, mobility of the device, compatibility with your hearing aide(s) format of the class etc. You can access further information on adaptive technology and funding options by contacting your advisor at your institution's accessibility services office.                                                                                                                                                 
Sign Language Interpreting
ASL interpreting is an accommodation for students who communicate using sign language. The interpreter is professional trained to faithfully and accurately convey the spirit and content of the communication in the classroom. In B.C., interpreters are designated as Registered Sign Language Interpreters (RSLIs) and to work in college or universities, they are also typically accredited though the ACE-BC Post-Secondary Interpreting Screen (PSIS).  Providing effective access, requires the interpreter to be familiar with the course content, prepare and discuss the interpreting preferences and needs with a student. Consider: You can review the BC ASL and Oral Interpreting Guidelines by checking our resources page. The document explains student, interpreter and institutional responsibilities.                          
Note-taking
Notetaking is an accommodation that provides a condensed summary of the classroom lecture, discussion, meeting or event, in a systematic style that matches the student's preference, such as point form or a more comprehensive format. Notetaking accommodations can be provided through copies of a classmate's notes, or as a hired service, using a laptop with notetaking software or apps. With paid note-taking services, everything that is heard is captured using a laptop and an edited copy of the notes is provided afterward. Effective notetaking is a skill that is acquired through training and strengthened through practice. Notes generally do not include details of who is speaking, comments etc. That kind of information is captured in a transcribing or captioning service such as TypeWell or CART real-time captioning.
TypeWell Transcribing
TypeWell transcribing is more like real-time captioning rather than note-taking. The transcriber uses a laptop computer and specialized software to transcribe the content for the student to view on their own laptop, tablet, or even smartphone. Transcripts indicate changes in speakers, environmental cues, and meaning-for-meaning content.Consider: May not be well suited to some math and science courses. May present some challenges in group work. Allows for autonomy in the classroom and offers an option for the student to speak for themselves, or read out what the student types.                                                                                                                                                                          
Real-time Captioning (CART)
Communication Access Real-time Translation (CART) provides a word-for-word, or verbatim transcription service, which is read on the student's laptop or device. The captioner uses steno equipment and specialized software to capture what is being said in the classroom. The student receives a verbatim transcript of the lecture and discussion.Consider: There is a high volume of notes due to the verbatim process. The service may not be well suited for math and science courses.          
Remote Interpreting and Transcribing
Remote services as an assistive technology, offers real-time support in circumstances where the interpreter and the student are in different locations. Careful assessment and consideration of circumstances is important when determining the feasibility of remote services. Through high- speed internet, software, and/ or web-based platforms, communication is facilitated by the instructor's use of a microphone and an off-site interpreter or transcriber listening to the instructor, and providing the communication access service. Consider:

With remote interpreting, visibility can sometimes be challenging, depending on the size of the screen. There may be a time lag between classroom activity and the interpretation; and may prove difficult with multiple speakers. Online classes with many other students on screen can make it difficult to see the interpreter on screen, and adaptations will be important to consider (either adjusting the technology and viewing options or using a separate device for seeing the interpreter separate to the online class platform). Remote service delivery is also dependent on good acoustics for transmission to the service provider, technical support – computers, video camera, microphone, high-speed internet access, adequate lighting for the interpreter and student. An assessment of the circumstances (number of people, set-up, technology etc.) in which access services are requested will assist in determining the effectiveness and appropriateness of this service. Testing and training are important for implementation and ensuring effectiveness for all parties in the learning environment. Troubleshooting, establishing back up plans and regular assessment are also essential for maintaining effective service.
ACE-BC, in collaboration with several partners have created the Transition Into Post Secondary (TIPS) online course.
TIPS is designed to prepare students for the new world of post-secondary education. If you are a student graduating from high school or already enrolled in college or university, this free online course is to support you in our educational journey. Register now to start your preparations and planning. Contact us at Office@ace-bc.ca for more info or support with registering for the course. The course modules include helpful information about your right and responsibilities, self-advocacy, managing your well-being , along with financial planning and much more!
Deaf, hard of hearing, and DeafBlind individuals can experience fatigue when using residual hearing to communicate because of mental and auditory resources used to attend to listening tasks. The more distracting the background noises, the more mental and auditory resources are needed, and the more fatigue increases. As well, working through another language, such as American Sign Language to understand and follow English, can be mentally exhausting. Fatigue can cause the following problems for Deaf, hard of hearing, and DeafBlind students:
Stress, long-term, can cause an increase in the likeness of getting illnesses.
Higher rates of absenteeism.
Loss of concentration/distractibility.
Reduced mental processing and decision-making capabilities.
Less productive in classroom discussions and for assignments, leading to poorer grades or failure.

For more information on the topic related to student fatigue please check our webinar held in March 2020 followed by a Q&A session.

Professors can do the following:

Exercise turn taking in class through raising of the hand and ensure that the person has been acknowledged before he/she starts to speak.
Provide preferential seating in the classroom if requested
Provide notes in class or place notes in LMS to be downloaded by students
Provide written information on assignments, either in class or to be downloaded from an LMS.

Related article by NATALIA ROHATYN-MARTIN "Answering questions about inclusion in schools needs to involve students"

Less active social life and more prone to being socially isolated.
Due to fatigue, Deaf, hard of hearing, and DeafBlind students will begin to 'tune out'and cease to follow a conversation or classroom lecture. Feelings of social embarrassment can lead to students 'faking'their understanding of what is happening around them.
Students can do the following:
Admit to fatigue. It is a natural consequence of attending to your surroundings and to the concentration needed to communicate. It is nothing to be ashamed of and should never lead to you pretending to understand, i.e. 'faking it.' Faking understanding is ultimately detrimental to your social life, your education, and your working career.
Learn coping strategies to deal with your fatigue. E.g. physical exercise, meditation, getting enough rest, taking time to deliberately 'tune out', admitting when crowded coffee shops, and/or bars are not the best place to try to communicate, making sure hearing aids and cochlear implants are properly programmed, etc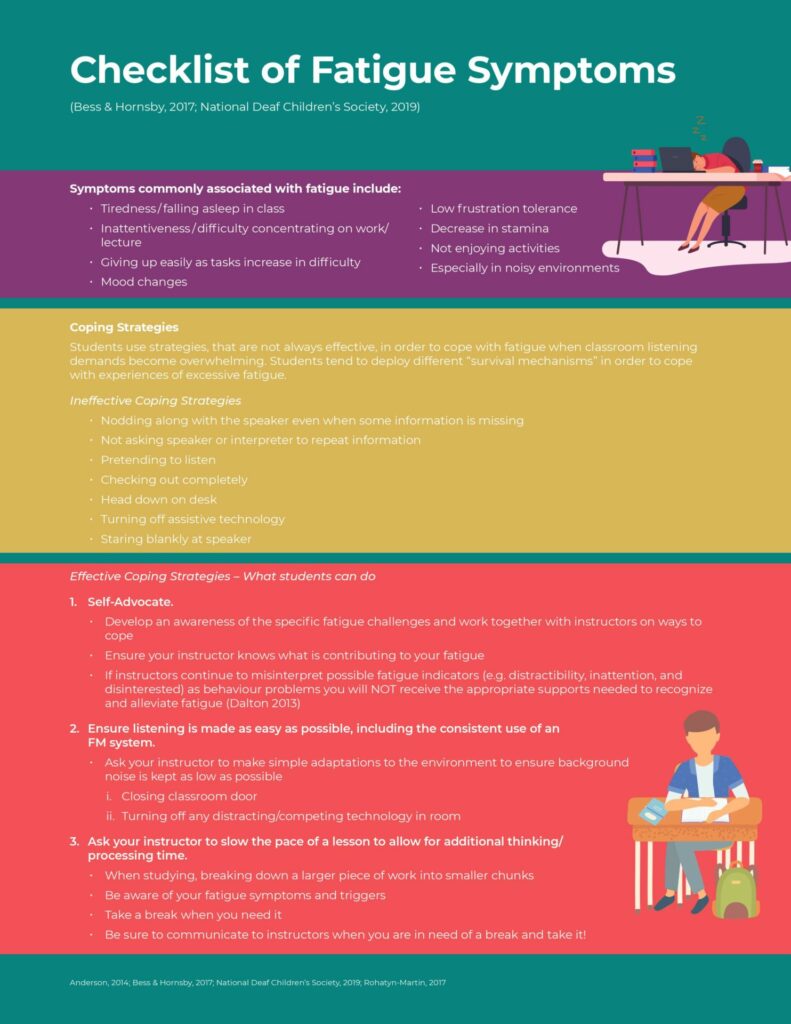 Checklist of Fatigue Symptoms.
Understanding Cognitive and Physical Fatigue in Diverse Classrooms
All Public Post-Secondary Institution List
Find out more
Fall 2022 Student Online Learning Tips
Get ready for the term