---
Your participation in this survey, which aims to gather insights and perspectives on accessibility and accommodations at colleges and universities, is greatly valued and appreciated.
Welcome students, parents, teachers and support professionals. We're are excited to have you here!
Welcome to Transition Information Into Post-Secondary Studies (TIPS). You may currently be a high school student or an adult who is Deaf, Hard of Hearing or DeafBlind. If you have decided to take this course, it means you're probably considering making one of the biggest decisions of your life: to attend post-secondary education!
The transition process to post-secondary education can be exciting as well as confusing and even a little intimidating. This course was designed to guide you through the planning required, and to provide you with the information, knowledge and skills that will help you confidently start your journey into post-secondary education, campus life, your practicum experiences and beyond.
This online course was developed by ACE-BC (formally known as PCAS) as an extension of our annual workshops that were created in collaboration with the Wavefront Centre, Canadian Hard of Hearing Association – BC Chapter's Youth Peer Support Program (CHHA-PSP), The Provincial Deaf and Hard of Hearing Services (PDHHS), The Deaf, Hard of Hearing, DeafBlind Well-Being Program (WBP), along with additional support from Assistive Technology-BC (ATBC) and the Inclusive Campus' DREAM project.
We hope this course helps you begin with developing your action plan as you prepare for your entry into post-secondary education. We are excited to support you as you embark on this new chapter of your education.
Transition into Post-Secondary Studies (TIPS) is designed to provide students with knowledge and the tools to effectively prepare for the transition into post-secondary education.
While this course is designed to support students who are Deaf, hard of hearing or Deaf-Blind, or with additional disabilities, we recognize that the transition process for all students with disabilities is a significant leap. Many of the fundamental preparations, and skills regarding disclosure and self-advocacy for example, apply to any student who will be planning for accommodations and equitable access for their post-secondary experience. This course was designed to help make the leap easier, by offering preparatory support for students and their support networks. At the same time, we also believe in the shared responsibility for access and inclusion that lies within the post-secondary system. ACE-BC also provides support and resources to the post-secondary institutions, to help improve accessibility in all facets of the learning environments.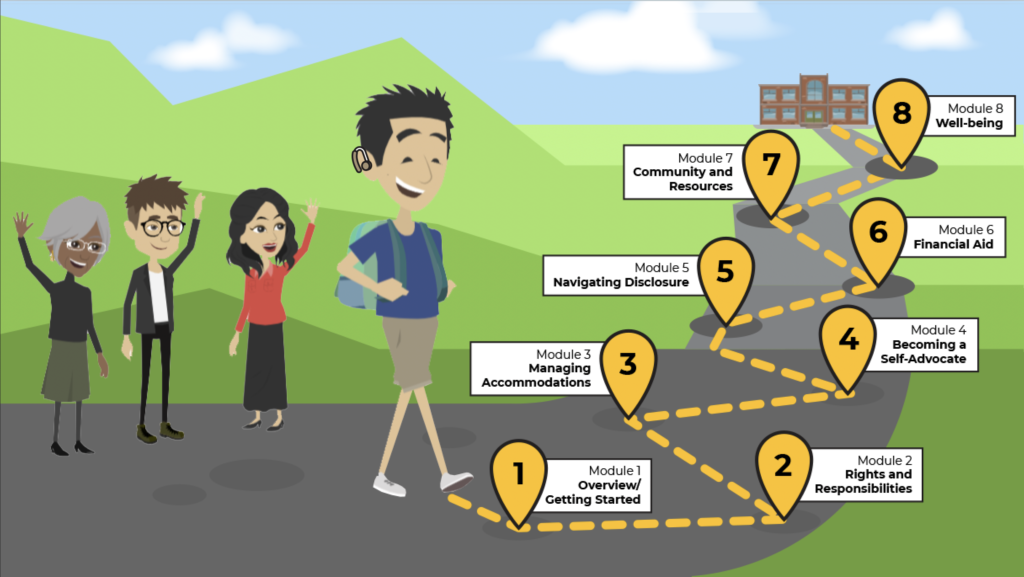 We hope this course helps you begin with developing your action plan as you prepare to start or continue your post-secondary education. In addition to this online learning, we also invite you to register for our Student Mentorship Program. This will be an additional source of support as you work on navigating the world of post-secondary
We hope you will enjoy this course and welcome questions and feedback you may have. We will have an evaluation tool you can access at the completion of the modules and welcome your feedback to ensure we can provide the most effective training tool and resource possible.
We invite your input and collaboration on how this course may be applicable for your program, institution or service! Please reach out to us at: office@ace-bc.ca.
We look forward to supporting your success in your educational journey!