Register with Accessibility Services
In order to receive academic accommodations and supports, students are required to register with the Accessibility Services/ Disability Resource Centre at their post-secondary institution. It's confidential and just because you register, it doesn't mean your professors will know about your hearing loss, or if you have a disability.
Even if you feel that you won't need their services, it's important to register with these offices. If you end up needing their help, it could take a few weeks/months to get everything in order and when things aren't going well in school, it can be stressful because you don't have time to wait.
Some institutions will meet with students before they have registered but once you have been accepted into your program, be sure to register. In addition to registering as Deaf, Hard of Hearing, or Deafblind, it is important to note that supports for other disabilities are also available. These may include:
ADHD
Blind or low vision
Chronic/systemic health impairments
Learning disabilities
Mental health disabilities
Mobility/functional impairment
Neurological disabilities
Steps to register with the Accessibility Services
Step 1. Contact the Accessibility/Disability Services office and make an appointment.
Step 2. Provide documentation of diagnosis and functional impact to your advisor. The documentation should come from your doctor or appropriate medical authority such as your audiologist, who will provide your audiogram and audiological report.
Visit your school's website for detailed information about registering and arranging accommodations.
Step 3. Inform your instructor and the practicum coordinator by providing them with your letter of academic accommodations issued by the Accessibility Services office.
Be sure to check out the Accessibility Services website of your college or university as they also have information of the processes they require and often step by step instructions for getting set up with them. Check out BCIT's Accessibility Services for example, for future and current students.

Initial Appointment: What to Bring With You
Now that we have covered the accommodations and services available to request, be sure to check the website of the institution's Accessibility Services office. You will find information about their process for arranging accommodations and the steps you need to take to arrange these services.
At your initial appointment with the Accessibility Advisor (which should be booked as soon as you receive your acceptance letter), the following documents are what you will be required to bring with you:

Audiogram (within one year old) – medical document that is the #1 key to determine your eligibility for accommodations and services.
Audiological Report – provided by your audiologist, summarizes your hearing levels and includes recommendations for assistive technology and services.
Individualized Education Plan – outlines the accommodations and services that you have received in high school.
Letter from your TDHH/HRT – provide an explanation of how your hearing loss impacts the accessibility to learning.
Appendix 8 Form (Equipment, Services and Accommodations) – part of a student loans application to obtain government funds, more details in Module 6 on Financial Aid.
Follow Up Appointment
Semester schedule – to be shared with your service provider.
List of textbooks – for your Accessibility Advisor to arrange these materials for service providers.
You will also receive a letter from the Accessibility Advisor that confirms your eligibility to receive the accommodations and services agreed upon. Your Accessibility Advisor will inform your instructors of accommodations (not your disability).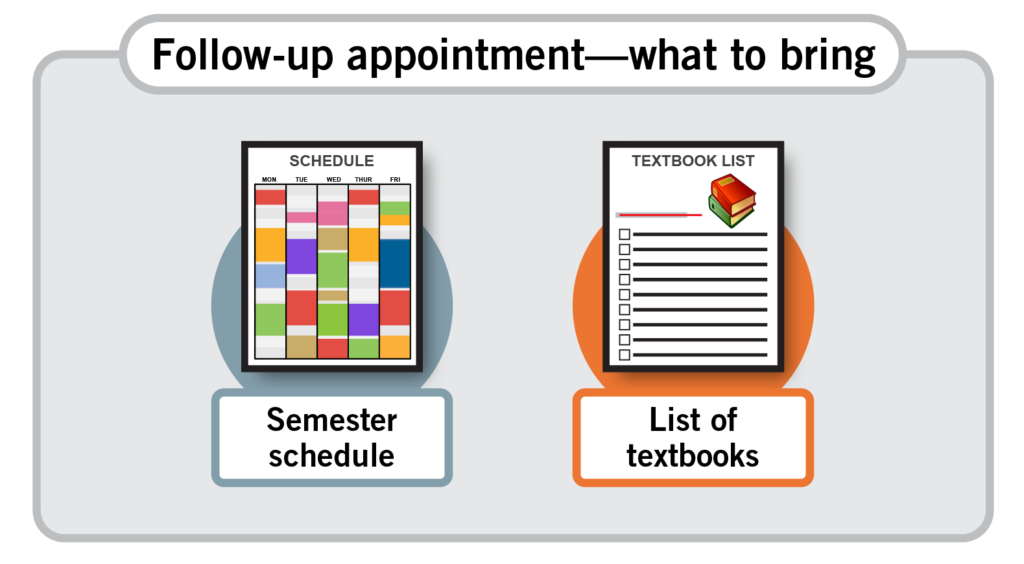 Suggestion: You can also take this opportunity to arrange a 1:1 meeting with each instructor (get ahead of everyone else to make an impression!) and explain the accommodations that you have, such as demonstrating how to use the transmitter component of your HAT (Hearing Assistive Technology).