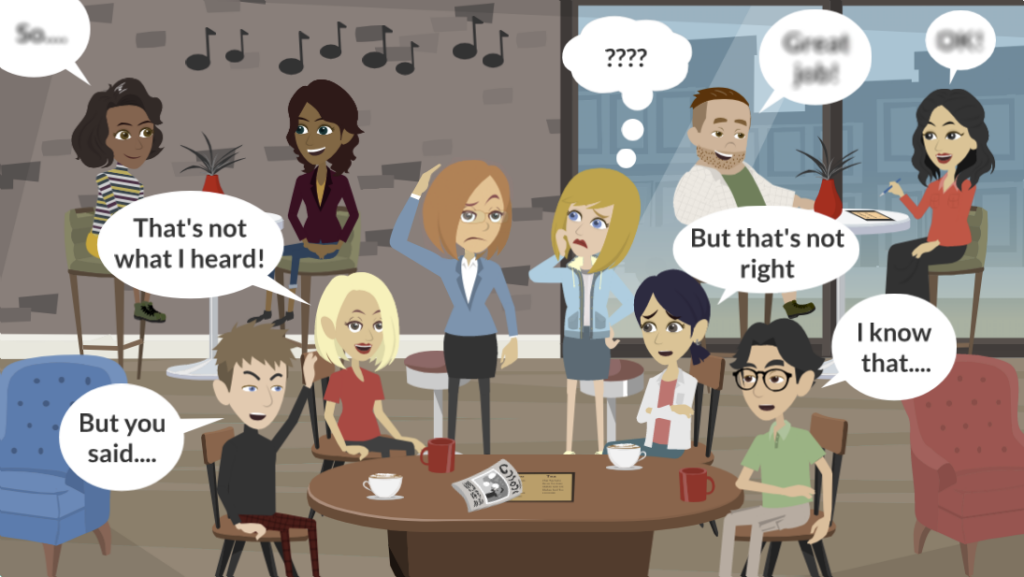 Putting it into practice
Capstone Assignment – Reflect and discuss.
In this section, you will have the opportunity to practice applying strategies to navigate a variety of common scenarios faced by students in post-secondary education. We will present seven case scenarios of situations that you might most likely encounter. These are based on real experiences shared by alumni, professionals, and service providers.
Choose 2 or 3 scenarios at first, to practice and learn from. For each of the scenarios, consider the following questions and propose possible solutions and enter these in your ePortfolio for further discussion.
What can the person do?
What challenges might the person face?
How could this situation have been prevented?
Keep in mind that here is no right answer nor is there only one way to approach the situation. Be able to justify your reasoning. Upon completion of this section, share your responses with your TDHH/HRT.
Here is a reminder of the three types of communication. Consider these models for how you might deal with situation and communicate what will work best for you
---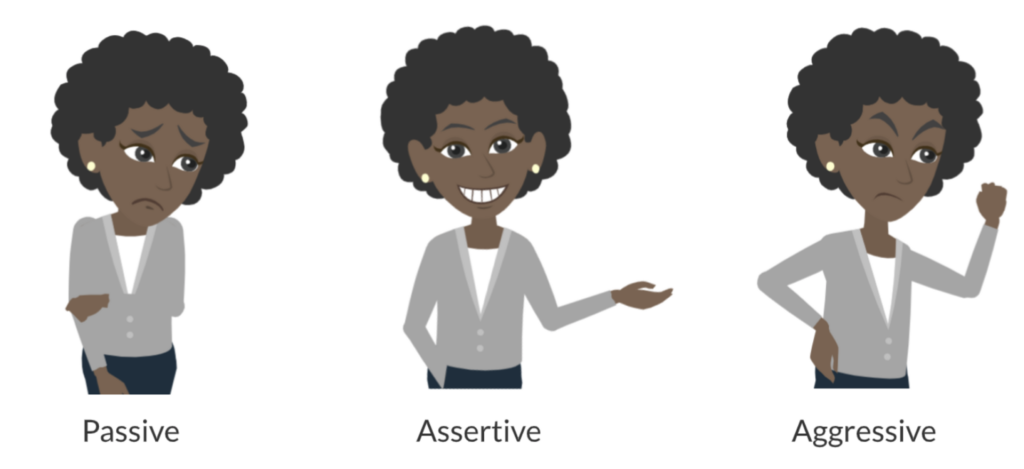 Three Types of Communication
Scenario 1: Meeting Your Accessibility Advisor
You begin school in September and are surprised there is no TypeWell transcriber available to meet your communication access needs. You try to book an appointment with the Accessibility Advisor, but are told that it will be a week before the advisor is available. You are left feeling frustrated that you will be going to classes without appropriate services.

What can you do?
What challenges might you face?
How could this situation have been prevented?


You attend a follow-up meeting with your Accessibility Advisor to discuss communication access for your upcoming courses. You discover that the interpreters have already been hired for the semester. You are upset because you believe you should be able to work with the interpreters of your choice.

What can you do?
What challenges might you face?
How could this situation have been prevented?
Scenario 2: Obtaining Documents from the Audiologist
Derek met with his Accessibility Advisor well before classes started. The advisor informed Derek that in order to proceed with a grant application for accommodation equipment or services, Derek would need to provide the most recent copy of his audiogram and have the Appendix 8 form filled out by an audiologist.
Derek remembers that his public health audiologist told him his file would be transferred to an adult clinic because he is now over age 19. Derek books an appointment at a local private hearing clinic and is informed that it will cost $100.00 for a hearing test and two weeks for the file to be transferred from his public health clinic. The earliest appointment with an audiologist is also two weeks before classes start, which does not give enough time for the Accessibility Advisor to arrange accommodations. Derek starts to panic and does not know what to do.
What can Derek do?
What challenges might Derek face?
How could this situation have been prevented?
Scenario 3: First Encounter with a Professor
It is your first day of class in a big lecture hall with 100+ students. Your service provider has arrived and would like to know where they should be seated. You also have hearing assistive technology ready to be used. The professor is at the front of the hall preparing materials for the lesson. They have not yet been notified about your accessibility needs.
In response to your request, the professor said:
"It is a hassle for me to wear the equipment, I do not like having something over my neck. How about if I speak loudly and you can sit right here at the front?"
"I don't think that this person (service provider) should be here. I am not comfortable having every word that I said being written down. If you miss something, you can come ask me during my office hours."
"This is a class with lots of discussions. I am not the main speaker, so I don't think having me wear this the equipment will be helpful for you." [Assume that the service provider is not in the class and this equipment is the only means of optimal hearing access]

What can you do?
What challenges might you face?
How could this situation have been prevented?
Scenario 4: Requesting Services for Extracurricular Activities
Charlotte is interested in joining a student-run club. There are many exciting options and she is thrilled to have the opportunity to get involved! Charlotte found a poster advertising the first meeting of an acting club. She communicates using American Sign Language or relies on captioning or transcribing to facilitate her access. Charlotte assumed that these accommodations will be arranged upon notifying the organizers the night before.
She arrives for her first day of acting club and an interpreter or transcriber is nowhere to be found. The club president is setting things up and seems to be extremely busy, having no time to chat before the session starts. Charlotte leaves feeling excluded.
What can Charlotte do?
What challenges might Charlotte face?
How could this situation have been prevented?
Scenario 5: Building relationships with your service provider
Choose 2 or 3 of the following 5 scenarios to consider what you might face in your educational experience.
You have transcribing services in place for your classes and the semester has just gotten underway. The first few weeks have gone smoothly, and you are happy with the service. Then you start noticing that the transcriber for your class is arriving closer and closer to the class start time, and scrambles to get the equipment set up in time. Her lateness means that you have to wait for her to set up, and you are regularly missing the first few minutes of class, which is when the professor makes announcements about the course schedule and assignments.
You have registered for your classes and have transcribing services in place, though the Accessibility Advisor at your institution had a difficult time finding enough transcribers due to the shortage of service providers in your area. You notice right away that one of your transcribers is struggling with the course content, and you are pretty sure she is missing a lot of important information. Her transcripts are sometimes confusing, and you are having a difficult time following them.
You are taking a science class and you have an ASL interpreter. There is a lot of heavy content vocabulary that you must learn, and the interpreter is fingerspelling every word that may not have its own sign. You are concerned that this way of signing may not be sustainable.
You are in a group situation and the interpreter is interpreting. However, everyone is talking at the same time and it is impossible for the interpreter to interpret everything at once.

What can you do?
What challenges might you face?
How could this situation have been prevented?

You have early morning classes and your course load is heavy. You are tired and keep sleeping in. The provider texts you from the class "Are you coming?", but you're still at home. You slept in – again! You also know the provider won't capture the lecture until you arrive, so you won't be getting notes if you don't attend. You text you'll not be coming in for that class but for the next class four hours later.Your provider has advised you that she has to get up very early, drive 50 kilometres, and set up, only to discover you won't be there for another four hours. She said they are really short-staffed and other students could use their services if only they were notified promptly. The Accessibility Centre will need to be notified if this keeps happening. You don't want to lose your service and you want to get along with your providers.

List as many strategies as you can think of for fostering good relations with your service providers.
Scenario 6: Communicating with classmates
You and a group of classmates have been paired up to work on a presentation project together. You agree to meet to discuss the project over lunch hour. You are seated at a table in a common area with lots of background noise and your group start discussing the details and expectations of the project.
The members in the group are often looking at papers while speaking and it is difficult for you to understand what they are saying. You have to ask them to repeat themselves several times and they seem to get frustrated, saying "Don't worry, never mind, just do parts 1, 3 and 5." You feel very uncomfortable about this communication approach.
What can you do?
What challenges might you face?
How could this situation have been prevented?
Scenario 7: Developing independence 
Janelle and her mother have met with the local college Accessibility Centre to make sure supports are in place for her and her goal is to attend the Social Worker program. Janelle's mother has researched options and feels Janelle needs transcribing or CART, but neither are available in the region. Distance service isn't advisable given the discussion-based nature of the program.
Janelle is prepared to accept the options presented to her by the college (a Roger Pen and a note taker), but her mother is upset and feels that won't be sufficient. Janelle's mom feels that they should file a complaint and Janelle should switch to another institution if she can't get adequate support at the college. Janelle is not comfortable with this option, as she wants to study in the program she chose, plus some of her friends will be attending as well.
What can Janelle do?
What challenges might Janelle face?
How could this situation have been prevented?