Here are some more things to think about, so there are no surprises. This is an example of where you can take charge with some parts of your learning!*

First, PART 1: let's look at some of the physical, logistical, scheduling and registration steps below.
Step 1: Class structure and size
The number of students in a post secondary class is going to be significantly larger in a than it was in high school. This could mean an increase in the level of auditory distractions with people whispering and keyboards clicking in the background. The classroom size will likely also increase. The bigger environment makes hearing the instructor and other students challenging. This can become particularly difficult if the classroom is in an older building with poor acoustics.
NOTE: Smaller class sizes can be more ideal in order to better hear the everyone.
Step 2: Be strategic during the course registration process
Be strategic during the course registration process because class sizes and structures will beimportant. It's always a good idea to scope out classes several days prior to registration. ** Ask your accessibility advisor if priority registration is an accommodation support available to you. Otherwise, most institutions will have a staggered registration, therefore, by the time some students have the opportunity to register, some classes will be full with the option of a waitlist.
As a result, it's a good idea to have a few extra back-up courses that work within your schedule if all the first choices are already full. In addition, some students may decide to drop a class within the add/drop period, so again, having an already identified back-up option to replace the dropped class would be ideal.
Example for Strategic Registration: Let's say that you want to register for Physics 100 at the University of British Columbia. Here are the course options: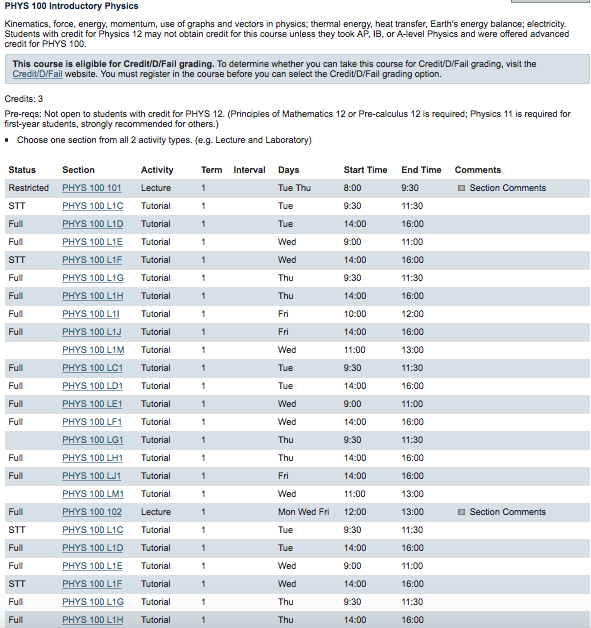 Wow…there are so many options! It appears that there is a lecture and lab component for all classes, therefore you will need to register for one of each.
Step 3: Think about your timetable and scheduling.
Be sure that you:
Look at the times that will work well with your current timetable and other courses.
Look for classes with a smaller size if acoustics are important for you.
Select the class size and time that works within your schedule (think about the best times for you and also moving form one class to another).
Look at this timetable example: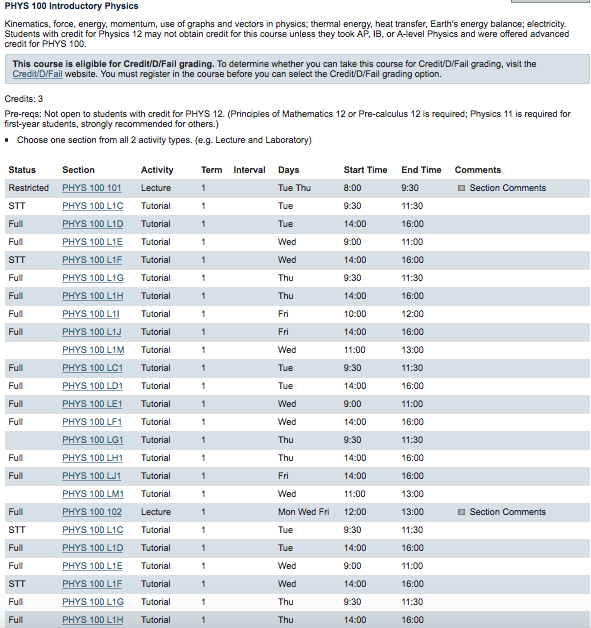 Look closely at the class size that is listed under "Currently Registered," it says that there are 286 students in one class! Wonder what the acoustics will be like with a class that large? It's in the LIFE Building, Room 2201 (To find the image below, you would follow the instructions in Step 4.)
Step 4: Find a map of rooms in campus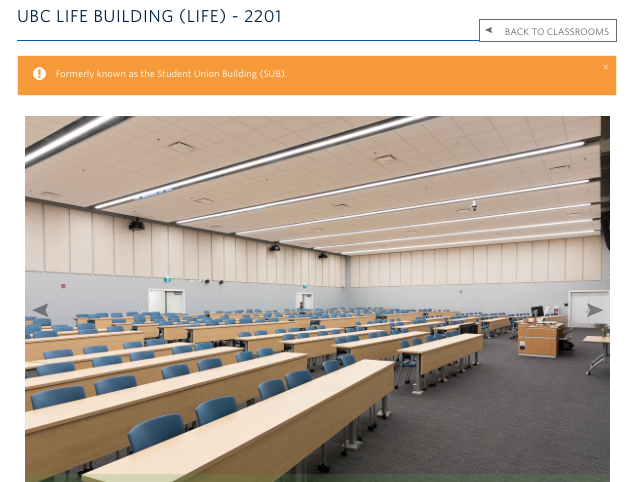 Find a map of the campus and a picture of the room to see if it's an older room, newer room, and how it's laid out.
Step 5: Check out the professor!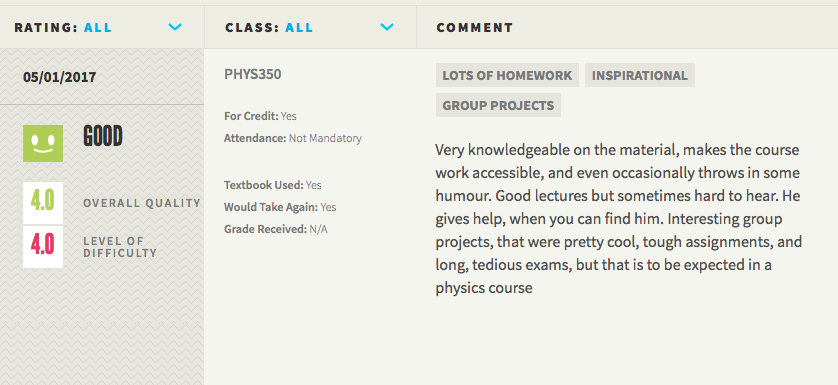 Use "Rate My Professors" (www.ratemyprofessor.com) in order see if there are any comments about the quality of the professor's voice. Remember, it's generally known that accents can be tricky for hard of hearing listeners!
Step 6: Repeat Step 1 – 5 until you can find a smaller class with good acoustics, and an audible professor.
These steps 1- 6 might seem like a lot. It can feel like a tedious process, but it's worth it in the end. Be patient and be strategic! Talk to an Accessibility Advisor to see if they have any tips on how to successfully secure spots in an acoustically ideal classroom, with a small class size, and an audible professor all that works within the desired schedule. Some students who are really keen and curious, will briefly sit in on a summer lecture to determine if the professor is a good fit for their hearing loss.
NEXT, PART 2: Planning and getting organized for the course content, format, expectations and evaluation. 
Course Format: Some courses are primarily lecture based, some discussion based, and others will have a lecture and laboratory component. And don't forget about online classes! This will vary depending on the program. A person's learning style and hearing status can impact which class to register for. Prior to registering, consider your learning style with the delivery method, and plan ahead!
Sometimes, you may not know the format of a course until you see the syllabus on the first day. When possible, getting any of this information ahead of time will be beneficial if access and accommodations – such as captioning need to be arranged! The course syllabus contains valuable information regarding the instructor's expectations, course materials and readings, grading system and weighting of marks for exams, papers, labs, and assignments. Once you receive the syllabus, it's important to look out for a few different things and address them as soon as possible! For example:
Does the course has a lot of videos, or media content? If you have difficulty with clarity or hearing the television at home, media content could be challenging to hear during a class. It is possible that these materials could be made more accessible for students. For example, if the institution has enough notice, these materials could be captioned by the time they are viewed in class. If not, you could request a copy of the materials prior to class and preview them in a quiet environment with their personal assistive technology so you're well prepared for the discussion following the film.
The second consideration is for oral examinations. These evaluations are meant to be an assessment of the student's knowledge, not a hearing test. Therefore, it's important to work with the professor and Accessibility Advisor to arrange an alternate location/format for these assessments. As always, this needs to be done far in advance.


You are always encouraged to work with their Accessibility Advisor and professor to determine how materials can be made more accessible if you're having difficulty accessing them.
Workload: The amount of time and effort spent for each course will significantly increase compared to high school. The recommended and suggested course readings can take up a lot of time. The expectations for papers in terms of quality and length also increases. You could consider a part-time course load for the first term if you feel you are unsure of how these demand increases will affect you. Or, you could check availability for Peer Tutors. It's important to speak to your Accessibility Advisor to determine the best course load for you.

Evaluation – Evaluations can include class participation, presentations, group assignments, labs, papers, and exams. You are encouraged to check the syllabus on the first day to see if there is a major evaluation component that might seem more difficult for you. ** It might be good to research class options to see if the same class in taught by a different professor that might have a different evaluation method.
Expectations – Deaf and hard of hearing students are evaluated and expected to participate the same as their peers. As a student registered with the Accessibility Services, you could require additional supports in order to "level the playing field" to meet these expectations. You're encouraged to speak with your Accessibility Advisor in order to determine what is required to achieve this equal opportunity. This could mean a peer note-taker, an FM System, or evaluations in a quiet space.

Self-Responsibility – In post-secondary, taking on this new responsibility for your education can seem like a lot at first! Not to worry, you are not alone. Stay organized, take advantage of student supports at your institution and practice good self-advocacy skills. This can include registering for the Accessibility Office, introducing yourself to professors, selecting the best course options, speaking up about accommodations, and voicing your challenges. After all, nobody will do this for you! More information on this is covered in the module on Rights and Responsibilities.

Organizational skills – It is extremely important to be organized. This is key. In terms of being organized with documents concerning your hearing loss, financial aid, reports, accessibility office correspondence, and equipment/service provider receipts, start a binder. The binder will become a useful reference tool over the years.

Staying organized for deadlines and reminders for assignments and exams will look differently for each student. Find what works best for you. For some it could mean a cellphone calendar, others a physical calendar, or a combination of the two.


A suggestion for more visual students could include a list of the bigger assignments and exams throughout the term. The highlighted areas show busier times during the term so you can plan ahead. Crossing off assignments/exams when they're done can be very satisfying!
Sept 10 – PSYCH 100 – Paper – 10%
Sept 20 – CHEM 109 – Lab – 20%
Oct 8 – WRITING – Midterm Paper – 20%
Oct 9 – PSYCH 100 – Midterm – 30%
Oct 9 – COMPSCI 101 – Paper 15%
Oct 10 – CHEM 109 – Midterm – 35%
Oct 12 – COMPSCI 101 – Midterm – 15%
Oct 22 – WRITING 100 – Paper – 20%
Oct 24 – PSYCH 100 – Midterm ll – 30%
Nov 3 – COMPSCI 101 – Paper – 30%
Nov 10 – WRITING 100 – Paper – 20%
Nov 24 – Psych – Final Paper – 30%
Nov 28 – COMPSCI 101 – Final Assignment – 50%
Nov 29 – WRITING 100 – Final Paper – 40%
Nov 29 – CHEM 109 – Final Exam – 45%
Making new friends – Balance is important, so don't forget to have fun meeting new people! If your class is online – ask if there are any other students who would like to meet for studying and discussions. This can help everyone be more connected and support your learning too!
Post-secondary institutions can have some of the most interesting clubs that students can join. Ask your Accessibility Advisor how these clubs can be more accessible. Academically speaking, try to get the name and contact information from at least one person in each class so that notes can be compared, if needed.
*As you can see, there are many important differences to think about as you prepare for your transition into your college or university. Be sure to give yourself plenty of time to work though all of these carefully.